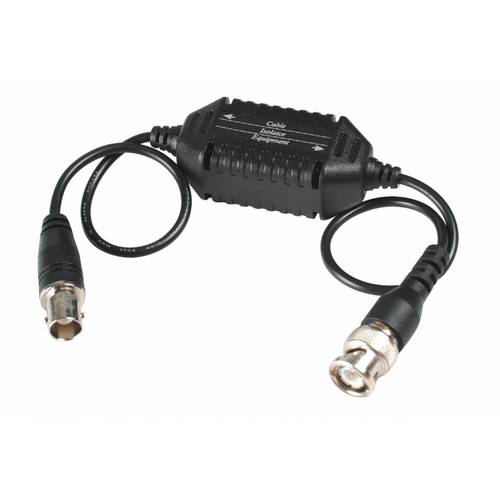 Video Ground Loop Isolator could reduce "Ground Loop Interference" with CCTV signals and can easily install in a new or added to existing systems. It is useful where a video signal is transmitted via cable between points with different ground potentials, differences in ground potentials are typically caused by unbalanced power line loads.

Specifications:
- Insertion Loss: <0.5dB
- Bandwidth: 20Hz -11MHz, +0/-3dB
- Input Resistance: 75 ohm
- Output Resistance: 75 ohm
- Ground loop rejection: >90dB @>50Hz
- Isolation Voltage: 600VDC (Min)
- Insulation Resistance: 100m Ohm
- Transient Voltage Suppressors: 12 Vrms
- Dimensions (mm): 28x26.5x73 with 15cmx2 cable
- Material: ABS Black

Features:
- BNC male to BNC female with mini cable 15cm on both sides.
- Passive type, no power need.
- Hi Performance to eliminate ground loop problem.
- Low video loss , Bandwidth: 20hz -11Mhz ,+0/-3Db
- Prevents video-signal distortion caused by video ground loops.
- Eliminates picture tearing, cross talk and rolling.
- Prevents power cables laid by others interfering with the CCTV system.