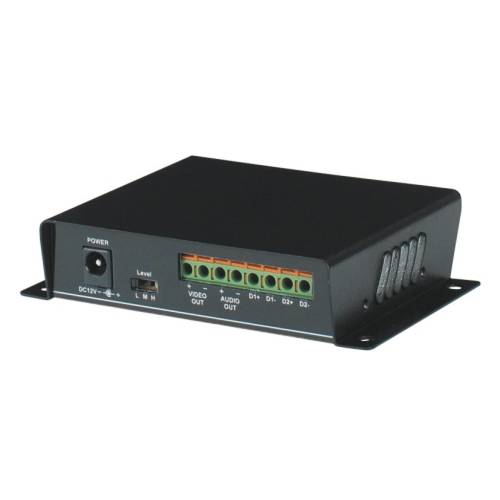 Active Video & Audio & Data Twisted Pair Transmission

Specifications:
- Transmit video, audio and data signal (RS422, RS485).
- Three position range switch for gain select on transmitter.
- Five position distance range switch on Receiver, brightness adjustment, two video output.
- Built in transient protection and ground lifting.

Features:
- Smart twisted pair transmission products are designed for CCTV signal transmission over unshielded twisted pair wire (CAT 5 network cable).
- These smart cabling system transmission are an alternative solution to coaxial and fiber based systems, providing following benefits:
- Fast, easy installation, saving time and money.
- Substantial savings on the cost of the cable itself.
- Superb quality on long range transmission.
- Active Video Transceiver (power required), transmission range color 1500 meters, B/W 2400 meters via CAT5 UTP cable.