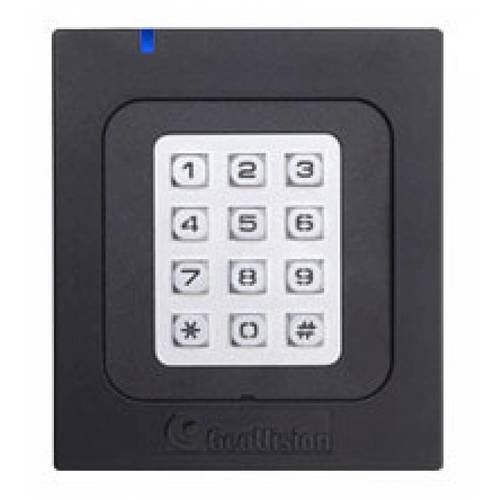 Working as a standalone solution, GV-AS110 is a card reader and also a single door controller. It is possible to add one more card reader to GV-AS110 for entry and exit applications. GV-AS110 has the capability to store up to one thousand cards. When GV-AS110 is being used as a standalone unit, the programming is either done on the keypad or from the software GV-ASManager through the RS-485 connection. An economic solution for access control, GV-AS110 is suitable for controlling doors, parking gates and access to elevator call buttons.

Features:
- 1,000 / 40,000 cards (standalone / networked or RS-485 mode)
- Easy programming from keypad
- Built-in 3 digital inputs and 2 relay outputs
- 1 Wiegand output (26 ~ 64 bits) for extra reader programming
- 1 door expandable to 2 doors with optional GV-ASBox
- Built-in 13.56MHz Reader
- Built-in Tampering Alarm
- Anti-Passback (APB) support

Specifications:
- GV-ASManager Version: GV-ASManager V2.3 or later
- CPU: 32-bit RISC microprocessor
- Number of User Cards: 1,000 / 40,000 cards (standalone / networked or RS-485 mode)
- Frequency: 13.56 MHz for ISO14443A (MIFARE DESFire, MIFARE Plus and MIFARE Classic)
- Event Buffer: 65,536 events and log data
- Wiegand Interface: 1 Wiegand interface, 26 ~ 64 bit format. 12V DC Power Supply, 200mA
- Communication Protocol: RS-485
- Digital I/O: Input -3 inputs, dry contact, NO / NC | Output: 2 outputs
- Supported ID Format: Built-in reader reads UID only
- Power: 100 ~ 240V AC, 50 ~ 60Hz
- Operating Temperature : -35 °C ~ 65 °C
- Operating Humidity: 10 ~ 90% RH (non-condensing)
- Ingress Protection: IP54
- Dimensions (W x H x D): 95 x 108 x 23 mm
- Weight: 200 g
- Certification: CE, FCC, RoHS

Notes:
1. RS485 interface only supports GeoVision readers, while Wiegand interface supports both GeoVision and 3rd party readers (Wiegand 26~64 Bits).
2. GV-AS Controller does not support 3rd party access control software
3. GV-AS110 is a controller with a built-in card reader. GV-AS110 cannot be used as an independent card reader.
4. Specifications are subject to change without notice.