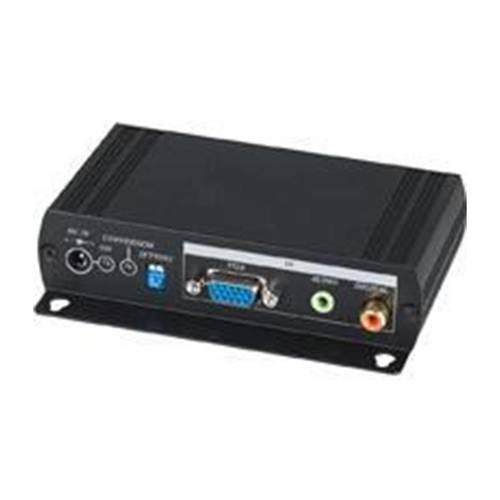 GVH1E VGA to HDMI Format converter allows you to convert VGA and analog audio or SPDIF digital audio into one HDMI cable. Plug your laptop or PC in and see it on your HDTV with an HDMI input. This product converts the VGA signal to HDMI at the resolution of the VGA video source. If the VGA source is set to 480i, 720p or 1080i, 1080p. Then it will convert to HDMI at the same corresponding resolution.

Caratcterísticas:

Convert VGA & Stereo/Digital (SPDIF) audio to HDMI display.
Support HDMI & DVI output mode. (Package do not include HDMI to DVI cable/adapter).
Encodes analog stereo audio or digital audio onto the video signal for HDMI video and audio.
Built in Auto selection on the stereo and digital audio.
Supports PC resolution up to 1920 x 1200.