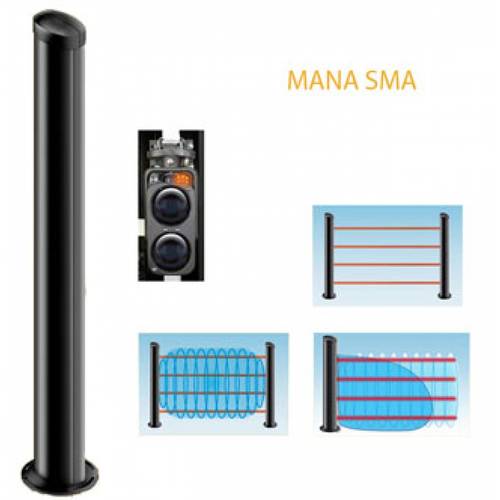 Column composed with 6 dual optical 3TX+3RX H150 cm, 230V, 250m

The new barrier conceived for outdoor protection of large sites. MANA can, in fact, be composed and configured based on the installation requirements and to the degree of safety required, micro-waves only, active infrared only, or combined with double technology. Each section has an independent alarm output, that can be managed in AND or OR directly from the alarm control unit. Sturdy structure made of aluminum with protective polycarbonate screen, fastened on a base arranged for the installation on pavement or on cable pit (accessory on request).
Is PARVIS MES e della SANDOR PLUS, barrier, appropriately modified in its optical part, to be able to access the high ranges required, therefore it is perfectly compatible wit the line of barriers PARVIS MES and SANDOR PLUS but with maximum range of those.
The new SMA (single man alignment) technology allows for alignment by a single operator, as the high brightness LEDs and buzzer for each optical lens can reach maximum value without use of additional instrumentation. Alignment is achieved simply via a button located on each optical lens. RS485 output for system centralisation. Ability to operate with optical synchronism.